I once heard a definition of training that juxtaposed it with definitions of education and experience. You may have heard this before, too. It went something like this: Education is the why, training is the how to, and experience is what you get when you don't have education or training.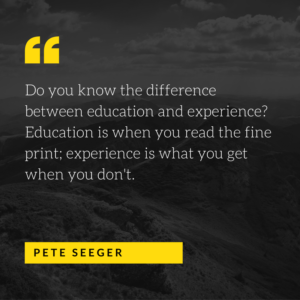 I work with real estate agents. The requirements to get a real estate license in the state of Ohio are relatively few: 120 hours of pre-license education, be 18 years or older, have a high school diploma or GED, answer "no" to a series of questions, and pass the sales license exam.
It's up to the real estate brokerages and Realtor associations to help new licensees learn the business and stay up to date. Real estate continuing education is mandated by the state, but "seat time" is the only qualification used to determine if a licensee has earned the credit hours for a given class. So how do we know that a real estate agent has really learned a skill or information and can apply it in their businesses?
I should mention at this point that real estate agents are independent contractors, not employees. A business that requires employees to attend training has the ability to mandate the class. Brokerages can make training a part of requirements for holding a license, but few exercise the right to return a license because an agent refused  or didn't attend training. Training becomes a benefit, a perk, of being affiliated with a particular brokerage. If an agent doesn't want to take advantage of training and education, there's little beyond returning a license a brokerage can do.
We spend a lot of time teaching people how to do real estate. This is what they want because they need to earn a living. We teach techniques and proper procedures. Agents learn to comply with state law and represent clients correctly. They learn to use the tools of the trade to market their services and serve their clients. What they rarely learn is why they should want to do x.
I am the person who thinks the why can enhance the learning and make the concepts taught "stickier." Some people get confused by the why. They don't really want to muddy the water with why, they're happy with how to. These are the learners who challenge me most. If I present a technology tool for their business and teach them how to use it, that's fine. But as soon as I ask why they should want to use the tool, most do not know. I try to make the connection and help them understand (that's my job after all). When they walk out the door, there are only a few opportunities I have to reinforce the message and help them understand.
In the end, I teach the how to, sprinkle in the why, and try to help agents avoid the experience that may end their fledgling careers.