I have to admit it, I've been in a funk for a few days. It didn't help that I spent too much time preparing for a training opportunity for which I didn't have an agreement in place. Shame on me. I went into teaching this week with a bruised ego and a desire to prove to myself that yes, I can do it. So I was very ready to help a group of people tackle the intricacies of several technology tools for their real estate businesses. After all, I really like teaching tech!
I came home after the second of two full days of training tired and somewhat satisfied that I achieved my goals. The students picked up some tips, learned how to use the tools, and generally seemed happy with the class. Some even told me it was the best class they had attended so far (kudos to me!). I, however, have to acknowledge that I am also a bit dissatisfied, not with my performance, but with the ways we introduce people to a new profession.
It all starts with expectations. I don't think anyone decides to spend money to fulfill the requirements for a real estate license (or any other profession that takes preparation and passing a test for entry) with the knowledge of the things it takes to be successful. That knowledge is acquired by learning on the job and the kind of training I do. Unfortunately, managers and companies that hire people to fill roles that require more training need to explain what candidates can expect to do as they start their careers. Too often, recruiters spend far too much time extolling the benefits of the work rather than explaining the work itself.
In most fields today, technology plays in important role in the day-to-day work of the business.  Most jobs utilize some form of technology tool, even if it's only email. I see people coming into real estate who can't distinguish between an email address and a website address. Because real estate agents often communicate with prospects and clients via email and use their websites for lead generation, this is an important distinction. I can explain the difference and I can teach someone what to type, but eventually, they have to learn and stop making the mistake. 
It's the lack of understanding these kinds of fundamentals that perplex me. I'm not going to blame age. I know plenty of older people who are very adept at using technology for business and pleasure. I usually hear one of the students in my technology classes announce to me before we start that "I'm not good with technology." When I hear that, I could think "oh no, here we go again," but instead I ask what that person means by "I'm not good with technology." The more I know, the more I can anticipate problems and try to adapt my teaching. I give the person admitting difficulties credit for understanding their weaknesses. It doesn't absolve us from setting proper expectations coming into the profession or introductory training.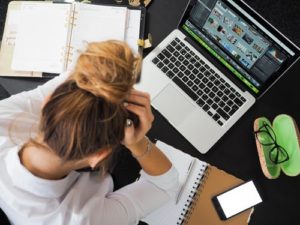 Whose responsibility is it to ensure the newcomers into our profession are able to master the tools they need to carry out their jobs? The responsibility falls on the trainers and the students alike. I find nothing wrong with telling adults that they need to practice and learn what I teach them. I don't give out grades; their business will show how well they learn and put what they learn into practice. I am a resource person and a motivator. I help them understand how to do something, what to do in different situations, and most importantly, why it should be done. I expect the student to connect the dots.
I want students to have a good experience in training. It can be difficult for them and me if expectations are not set coming into training and students are deficient in basic skills. I will continue to be patient and help those who lag behind others in the class. At some point, though, it will be painful to struggle to catch up. I worry that the pain will outlast the benefits of practicing an exciting, new profession and cause someone to reconsider after spending time and money to get this far. That's not fair to the newcomer.