I sat down today for the first time in 10 days to write in my journal. What used to be a firm morning routine of reading and writing with my cup of coffee before the newspaper and radio invaded my brain was swept aside by "stay at home" orders and "social distancing." My routine had a rhythm of getting up at a certain time based on when my spouse went to work. Now he's home all day. The routine got disrupted and I let the upheaval continue too long.
In much the same way, my training schedule and opportunities have been disrupted. I can't count on in-person training to fill my schedule. Instead, my classes have moved to online offerings. There are always the basics to teach; however, in exceptional times, we trainers need to have exceptional content that speaks to our students now. I have to ask myself: What do real estate agents want to learn, and what do they need to learn now.
When the world changes daily (or hourly), it's hard to tell people to do something when the result may not be allowed or applicable in just a short time. The uncertainty surrounding us all creates doubts about what we can teach people. Will it still be true in two or three weeks? Who will this resonate with if . . . ?
I work in the real estate business. I train people to be better, more productive real estate agents. Here's what I know to be true: real estate agents are relatable people. They want to help people and grow their businesses. Consumers look to them for advice and assistance. Agents form close personal relationships with people as they walk through the buying or selling process. This is something the big real estate search engines can't do, despite their presence in the market. Training should reflect what agents need to know to reach consumers and prove their value proposition.
There's little or no opportunity for influencing people in person right now. We must provide training online. This scares some trainers, I'm sure, but it's time to learn the tools if you haven't already. There are different ways to conduct training virtually. In addition to Learning Management Systems that provide on demand training, we can conduct live webinars and even utilize Facebook or YouTube live to engage our followers on social channels. We can create training content such as video quick tips. These static videos become "evergreen" content online that we can continue to use in the future.
Beyond these somewhat traditional means of training virtually, we can reach out to students via phone, text, and email with "micro-learning" opportunities. If you utilize a platform that gives you the ability to send mass emails or text messages, you can send a group of people a mini lesson with a short assignment. Have participants upload their completed assignment or results to a closed Facebook group to create conversation and the ability for you to give feedback.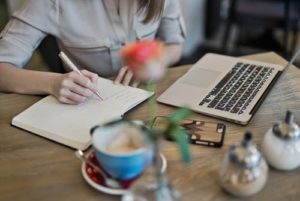 The opportunities are there and depend only on your willingness to be creative with training now. You may need to create new content for delivery through different means than you have in the past. You may need to learn something new yourself to be able to deliver training in a new way. Keep moving forward with your ideas and plans despite the temptation to throw your hands up and give in to the disruption. Your people need you.
Fill up the blank page.