As a way to boost milk consumption, the California Milk Processor Board began to use the tagline "Got Milk?" You may have seen the commercials on TV, the billboards, or the ads in magazines. The use of the line spread across the country as celebrities posed the question with milk mustaches. Suddenly it was cool to drink milk (and show your milk mustache). The refrigerator staple that people pour on cereal and drink with chocolate chip cookies is a common thing people can buy and consume. But what about ethics? Are ethics something you can acquire and use when needed or desired? Do we need to teach people ethics? And what about industry-specific business ethics?
Ethics, at its simplest, is a system of moral behavior. We often think of ethics as standards of behavior – what people should or should not do in the context of a situation. Everyone operates by some code of ethics whether they recognize it or not. Religions and philosophies provide us with standards of behavior such as the Ten Commandments or the Golden Rule, for example. Ethics has to do with social standards, whereas morals refer to a person's ideas of what is right or wrong. In this context, teaching ethics makes perfect sense. We are not prescribing a person's moral character in ethics; rather, we look to teach behaviors that align with the type of ethics the individual should adhere to.
Many states require real estate licensees to take an ethics continuing education course as part of license renewal requirements. In Ohio, this law is called the "Canons of Ethics." These laws are the legal standard by which someone can obtain and retain a real estate license. Any licensee who is also a Realtor® (a member of the National Association of Realtors®) must fulfill an ethics education requirement periodically as well. The Realtor® Code of Ethics dates back to 1913 and is updated annually to reflect changes in the profession. So the idea of teaching ethics to this profession's members is not foreign. 
Nevertheless, it begs the question, how do you teach someone to be ethical? Is it possible to tell if someone "got ethics"?
To teach ethics is sometimes challenging because the consequences for not teaching it well can be high (think of a practitioner losing their ability to earn a living). Rarely does someone tell me that they think it's silly to have to sit through the class. Students do challenge particular points or ideas, but they don't dispute the need to learn them. What is most difficult is the how – how do we help people understand what they should do and convince them to do it?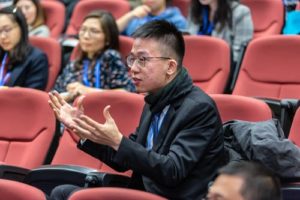 I like to use case studies or scenarios to help students understand what they need to do to meet the ethical standards set forth by law and their industry. Case studies give students the opportunity to place themselves in the situation and consider what they would do. Sometimes their responses are incorrect when asked what they would do in that situation. This is a learning opportunity. We address why the response is wrong and how to remedy the behavior. As the class progresses, students learn the standards of ethical behavior they need to abide by to maintain their profession.
This material can be extremely dry and boring – unfortunately. I've sat through enough ethics classes as a student to know how it should not be taught. I find it best to approach the topic with humility and humor. If I can get students to laugh at the silly things the agents in my case studies say or do, it helps to make the point. It also becomes easier to understand the difference between incorrect and correct behaviors. Humor can help get your point across.
Each scenario comes down to one specific question: What would you do? I have found that most people want to do the right thing, but they may not know what it means in that specific situation. Sometimes it's easy to follow the crowd and perpetuate bad practices because "everyone does it." Just like your mother told you as a child, it's not a good defense to do something just because everyone else is doing it. We have ethics to help us remember that there are better ways to act.
If a particular ethical standard no longer applies due to changes in society, then there are processes to get it changed. If it is law, we lobby our lawmakers. If it concerns industry ethics, that industry has a means by which changes are considered and acted upon. When I teach ethics, I point this out as well. Ethics are not stagnant; they are a part of society, and as society changes, so too should the ethics we reference as standards of behavior.
Ethics aren't foreign. We all have some kind of ethical structure that we work within. My job is to help people understand ethics and how their business practices do or do not comply with the ethical standards they are required to adhere to. In the end, I trust that my students can say that they "got ethics" – with or without a milk mustache.