For those of us who are self-employed, Covid-19 could be a blessing or a curse. I see many entrepreneurs and small business owners pivoting and making changes to bring their businesses to people in other, chiefly online, ways. Necessity is the mother of invention, right? I see the announcements popping up on social media. There are webinars and calls, e-books and videos. But what about those of us who are just starting our businesses? It's time to do a lot of "business development," right? In other words, work to find future rather than now opportunities.
I can embrace that idea and have been trying to make contacts and set appointments for that future date when I'll be able to hold in-person training classes. I am well-versed at presenting webinars and have done a few recently. Unfortunately, webinars haven't been replacing my other offerings. This means a loss of income in the short term.
I surprised myself one morning this week by writing the following in my journal: "I think I am grieving for what might have been if this pandemic had not taken hold. It has caused me to consider if I really made the right choice. I feel like I don't want to go back to where I was, but I don't see a way forward from where I am now." If you're just starting a business when the pandemic hit, your opportunities probably dried up. You are mourning for what might have been. This grief is real. I realized that when, serendipitously, a Twitter notification popped up on my phone that lead me down a social media rabbit hole.
In the process of surveying my Twitter newsfeed I saw a friend's post where she shared an article from the Harvard Business Review, "That Discomfort You're Feeling is Grief." In this article, the author interviews David Kessler who co-wrote On Grief and Grieving: Finding the Meaning of Grief Through the Five Stages of Loss with Elisabeth Kübler-Ross. Kessler pinpointed what I and others are feeling right now: "Anticipatory grief is that feeling we get about what the future holds when we're uncertain." My mind races forward three months, six months. I see my nascent business failing and then extinct before it really had a chance to get off the ground. "Anticipatory grief is the mind going to the future and imagining the worst."
What is the antidote to this grief? According to Kessler, it's staying grounded in the present. What can you do now, today to remind yourself that you're o.k.? In our communities, it can be practicing social distancing. For ourselves, it can be practicing mindfulness of our breath, our physical space, or just washing our hands and staying as healthy as possible.
This article was enlightening and sobering at the same time. Yes, I can give myself permission to focus on the present. I still need a way to earn a living and keep food in the refrigerator. I try to pitch my online offerings to people in a position to hire me. I feel sales-y and somehow inconsiderate. I find myself talking too much on these calls. I know this is the kiss of death (I teach sales skills after all!), but I can't seem to stop myself. Focussing on what I can do today to advance my business has turned into frustration.
At the same time, I see announcements of webinar offerings by colleagues and competitors. I watch some of these webinars and marvel at how some trainers ever got someone to agree to let them present. I'm a little jealous and mad at myself at the same time. What am I doing wrong?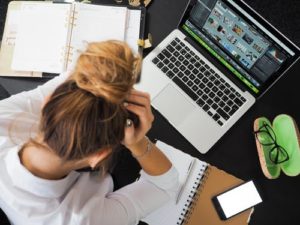 As more and more trainers race to put their content online in webinars and videos, the market becomes saturated. The audience for all of these online offerings is getting tapped out. How many webinars can you watch in a day or week before you just start deleting the email announcements or scrolling past the posts in your newsfeed. I call this "webinar fatigue." It's fine to watch and listen to people telling us what we should do for a while. Then, it turns into nagging and our attention begins to wane. We long for the connection, the dialogue, after a while, and webinars are not a substitute for human interaction.
The best webinar presenters understand this and work hard to create opportunities for connection while presenting. It helps when the presenter is interacting with the audience via the chat or questions function in the platform. Some platforms, like Zoom, give hosts the ability to put people in "breakout rooms" to interact. Sometimes even participants help each other out and start communicating among themselves in the chat. This aggravates some presenters (it's disrespectful! they aren't paying attention!) but I see this as a way to create community, even if it is in the context of an online offering.
I suspect that the number of webinar or online offerings will decrease over time and only those that are truly worthwhile, either because of the topic and/or the presenter, will stick around. I can't worry about that now, however. I need to let go of what I can't control and focus on what I can do now, today. If you'd like to talk to me about presenting some training, great. I'd love to connect with you. If you're tired of training options, connect with me anyway. I'm here to help in any way I can.